IMMEDIATE PRESS RELEASE – Slaight Music Announces New Friends As The Winner Of The 2021 Edition Of "It's Your Shot" – Canada's Premiere Songwriting And Artist Development Competition.
For Immediate Release
SLAIGHT MUSIC ANNOUNCES NEW FRIENDS AS THE WINNER OF THE 2021 EDITION OF "IT'S YOUR SHOT" – CANADA'S PREMIER SONGWRITING AND ARTIST DEVELOPMENT COMPETITION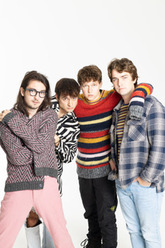 Toronto, ON (December 9, 2021) – Slaight Music – champion and prime supporter of the Canadian music industry – is pleased to announce that New Friends have been crowned the winner of 'It's Your Shot 2021', Canada's premiere songwriting and artist development competition. New Friends takes home the grand prize valued at over $100,000, including recording, distribution, radio promotion, publicity, and marketing support via 2021 label partner Hidden Pony Records, along with a professionally produced photo shoot, artist biography, and music video. Additionally, they will receive business mentoring, personalized development of their brand, and live performance opportunities in 2022. 
"We are extremely honored and grateful for Slaight Music and the Slaight family's generosity and interest in our group", says New Friends' Conrad Galecki. "As a young aspiring band, it is always such a surreal experience to know that we have support from some of the biggest names in Canadian entertainment." 
Adds Hidden Pony Records' Mike "Parkside" Renaud, "Hidden Pony Records is thrilled to partner once again with Slaight Music on the 'It's Your Shot' contest. After such a successful campaign developing Moscow Apartment, we're thrilled to once again work with this year's winner, New Friends, and find innovative ways to capitalize on the momentum the band have already created for themselves." 
"This year we received over 700 entries for 'It's Your Shot' and the caliber of talent from across Canada is amazing.  Congratulations to New Friends; the whole Slaight Music team is very excited to start working with them on their music journey. We would also like to thank the 25 industry judges that participated in helping us in getting to the finalist decision," says Ali Slaight, Manager, Artist Development and Music Repertoire for Slaight Music. 
'It's Your Shot 2021' is one of the many initiatives put forth by Slaight Music—a company focused on discovering, developing, inspiring, and supporting Canadian recording artists. Past winners of the 'It's Your Shot' competition include: Liz Coyles (2011/Maple Music), Thought Beneath Film (2012/Maple Music), Jillea (2013/Universal Music Canada), Sam Drysdale (2014/Warner Music Canada), Kayla Diamond (2015/Cadence), Notifi (2016/Sony Music Canada), Moscow Apartment (2018/Hidden Pony Records) and Johnny Shay (2019/Black Box). 
For more information on Slaight Music, please visit:  
https://www.slaightmusic.com/ https://www.instagram.com/slaightmusic/?hl=en
For more information on It's Your Shot, please visit:
https://www.itsyourshot.ca/ https://www.facebook.com/ItsYourShotContest
ABOUT SLAIGHT MUSIC. Slaight Music was established in 2011 by Allan and Gary Slaight (Allan Slaight is known as Canada's broadcast pioneer, music leader, and a prominent Canadian philanthropist.), with a mandate to support the Canadian music community through a variety of initiatives and to develop Canadian talent via strategic partnerships with industry peers. Slaight Music works with artists from across the country and across the musical spectrum, helping to further careers and get great music heard. Slaight Music is also invested in the technology sphere, helping Canadian music entrepreneurs develop the next generation of digital platforms and services. And they support a variety of music-related events, causes, and charities. 
ABOUT HIDDEN PONY RECORDS & MANAGEMENT. Over the last 14 years, Hidden Pony Records & Management has established itself as one of Canada's premiere talent development companies. The guiding philosophy for our success is to help artists discover and realize their potential by recognizing and developing their unique assets and nurturing them to create well-known and enduring brands. Hidden Pony Records & Management is very adept at charting a course of action that addresses each project's individual development needs in a realistic and long-term manner. Since 2007, Hidden Pony Records & Management has been instrumental in launching the careers of such noted acts as JUNO Award nominees Jeremy Fisher and Hannah Georgas, and JUNO Award winners Said The Whale and The Dirty Nil. 
# # #