17 acts hit Showplace in Peterborough to end homelessness!
On March 5 of 2020, the best of times was very much in evidence at the Showplace Performance Centre as local musicians and the community at large came together to raise more than $31,000 for shelters and housing initiatives funded by the United Way Peterborough & District. Back in 2020, when the best of times was followed so closely by the worst of times, who knew then that it would take so long for the former to return?
"Peterborough Performs 2.0 is a beckoning from our COVID bunkers, a chance to toe tap and sway with each other. But it's also a call that we must end homelessness in our community", shares JIM RUSSELL UNITED WAY PETERBOROUGH & DISTRICT
Now, just more than two years since "Peterborough Performs: Musicians United Against Homelessness" saw 17 local music acts perform on two stages over four hours, "Peterborough Performs 2.0: Musicians United To End Homelessness" took place on Sunday, March 20th, 2022, from 1 to 6 p.m. — with Showplace again donating the venue for a fundraiser to help provide housing and shelter for people who are marginalized. This awesome and familiar event FEATURED:
"Incredible event for our community, grateful to be a part!!" shares the Top 5 CBC Music Toyota Searchlight finalist, Boots & Hearts Emerging Artist finalist, and 2-time CMAO Nominee, Elyse Saunders. https://www.elysesaunders.com/about
All to raise awareness of the issues faced by those who are homeless in the Peterborough area, for funding for vital supports and services. #UNIGNORABLE #ptbo #80yrsUnited
United Way Peterborough & District inspires people from all walks of life to come together to raise funds, volunteer, and stimulate policy and attitude changes that lead to the improvement of people's quality of life in the City and County of Peterborough.
" All the names listed on this entertainment lineup have given the shirts off their own backs 100s of times for many if not all needy causes inside this tight-knit community. They have made an impact in the lives of soooooooooo many, was heartwarming to see them live again, though virtually for me here in the city, but, so proud of all my friends I call family for stepping up and out during a pandemic to help others, I was with you in the truest of spirit, a cause close to my own heart," shares Deb Draper from The Wire Megazine.
United Way's community investment focus is on helping individuals and families move from a life of poverty to one full of possibilities, and building strong healthy communities when in need call or visit 277 Stewart Street, Peterborough, Ontario K9J 3M8 P: 705.742.8839 F:705.742.9186 E: office@uwpeterborough.ca
United Way Peterborough & District believes in creating dialogue around important issues in our community so that we might stand up together to find local solutions and celebrate community success. We strive to offer a safe place for people to share their thoughts, ideas, opinions, and experience.
"In close consultation with Showplace general manager Emily Martin, and at the direction of the United Way, we set this date with confidence that we're in a much better place pandemic-wise and, as such, can safely gather and enjoy live music at what is a wonderful venue," Rellinger says.
"When all is said and done, it's time." United Way campaign chair Marcus Harvey fully concurs.
"Nothing soothes like music — nothing reminds us more of our connection to one another than the steady heartbeat of rhythm," says United Way Peterborough & District CEO Jim Russell. "Peterborough Performs 2.0 is a beckoning from our COVID bunkers, a chance to toe tap and sway with each other. But it's also a call that we must end homelessness in our community; that we need to make the human right of safe, affordable housing for all a priority."
"This is the third coming of Peterborough Performs 2.0," Rellinger points out. "We planned on two separate occasions last year to organize and present this event, but postponed it due to safety concerns and regulations in place." We set this date with confidence that we're in a much better place pandemic-wise and, as such, can safely gather and enjoy live music at what is a wonderful venue," shares PAUL RELLINGER, of UNITED WAY CAMPAIGN CABINET "Prior to the pandemic, Peterborough's United Way had the terrific idea of bringing together civic-minded local musicians to advance our campaign to alleviate the problems of homelessness," he says. "The result was Peterborough Performs. It was immediately apparent that coming together to protect the most vulnerable among us had value far beyond our fundraising goals. Then the world changed."
"Two years of COVID has been difficult for our community," Russell adds. "It has been most difficult for our neighbors who find themselves homeless. Join us in this celebration of unity and inclusion, and the belief that everyone deserves the dignity of a safe, affordable place to live."
"It seems so long ago — you're talking way, way back," says The Weber Brothers' Ryan Weber of the inaugural Peterborough Performs. "What I remember most from that night was just another example of Peterborough rising to the occasion, as it always seems to do. Showplace is a great-sounding room. There was a great buzz." "It (getting together with so many other musicians) doesn't happen that often, but I would say it probably happens more here than anywhere else. Peterborough is truly remarkable for that. If somebody is in need or if there's some kind of a cause, everybody comes together and it's always great."
"Frankly, we didn't know what to expect two years ago," recalls Paul Rellinger, a United Way Campaign Cabinet member, who is once again organizing and producing the event. "Presenting four hours of live music simultaneously on two stages — in the Erica Cherney Theatre and in the lower level Nexicom Studio — had never been tried before, so I was a little nervous. In the end, it worked. There was a great atmosphere in both rooms, a palpable feeling of togetherness that provided a lot of help to those most in need."
"There are two reasons this works: the Peterborough music community's continued unselfish giving of itself and its talent to help any cause identified, and the generosity of our sponsors and a community that consistently steps up to improve the lot of strangers in need of a hand up," Rellinger says.
"For the past two years, protecting one another has meant staying home, keeping distant, and getting vaccinated," Harvey adds. "Advancing the common good required disengagement and so we disengaged. Now it is time to reengage. Healthy communities ultimately require a connection. Peterborough Performs 2.0 will provide one of our first opportunities to reconnect after a long absence."
"Remember one of these names; remember all of them, but do remember this – each has seen the scourge of homelessness in Peterborough and doesn't like it one bit. But instead of walking away, muttering 'Not my problem', each has stepped up, gifting their time and abundant talent to Peterborough Performs 2.0. They are musicians and they are united to end homelessness. They know, as do I and each of my United Way colleagues, that too many of our neighbors have no idea where they'll sleep tonight, safe and out of the elements. They know that stable housing is a fundamental right; a right enjoyed by most but still denied so many others. This isn't a time to judge. This is a time to act. I respectfully ask two things first, if you know, or meet, any of those listed here, or their band members, and emcee Jordan Mercier too, thank them. They're giving up their Sunday to emphatically declare, with their musical voice and their actions, that enough is enough. They share that declaration with RBC, LLF Lawyers, Long and McQuade, KawarthaNOW, RMS Events, Porter Sound, and the Showplace Performance Centre, whose sponsorship speaks clearly for them. And second, purchase a ticket to Peterborough Performs 2.0 being held Sunday, March 20, 1 to 6 pm, at the Showplace Performance Centre. Tickets are available online at www.showplace.org or visit the box office right up to showtime. If you can't make it, you can still help by making a bid on any one of more than 40 terrific silent auction items by visiting www.uwpeterborough.ca and clicking the link. When this wonderfully entertaining afternoon of Peterborough music is over, we'll leave and return to our homes. That is a privilege that none of us should ever take for granted. We must do what we can to extend that privilege to those who need a hand up. Peterborough Performs 2.0 is a good place to start. A very good place indeed," shares Paul Rellinger.
Special thanks going out to our very own, Paul M. Rellinger, for all of the work you have put into bringing this incredible LIVE event together. "Huge Shout Out To This man, Paul M. Rellinger, for another Incredible fundraiser for The Homeless at Showplace. You always work so hard supporting local music and musicians and constantly helps the community, your hard work and dedication never ceases to amaze me. Thanks for being a great supporter and dear friend for us, over 30 years for me, so much respect for this man, Sir Paul," shares Platinum Award Winning, Wire Megazine nominee, and 3-time CMAO Nominee singer, song-writer, Tami J Wilde.
Stepping up again are Andy and Linda Tough of RMS Events who, through their technical wizardry and working in conjunction with Porter Sound, allowed the audience in each room to see and hear, on a big screen, who's performing in the other space in real-time. In addition, Long and McQuade donated the use of onstage sound equipment while kawarthaNOW was on board as the event's digital media sponsor.
Presented by returning event sponsor RBC, 17 acts will perform this time around, and an event-related online silent auction sponsored by LLF Lawyers with more than 40 items donated by local businesses, organizations, and individuals runs until 5 p.m. on March 20. FYI, those that require this, United Way Peterborough's Charitable Registration #10545 4482 RR0001 Also, Peterborough Performs 2.0 has sponsorship opportunities, at all levels, available. For more information, contact the United Way's philanthropy director Anne Ondercin or development and communication officer Sara Mountenay at 705-742-8839.
United Way Peterborough & District is part of a National not-for-profit movement that raises support and fundraises locally to affect change in your community. For the past 80 years, we have grown to service more than 60,000 people in our local communities. We're governed by an autonomous Board of Directors that, along with staff and volunteers, helps to build a caring community. Our network of 20 partner agencies is local charities in the community that focus on persistent social issues such as homelessness, domestic violence, mental health, unemployment, addiction, and more. These local agencies can be relied on during times of stability and crisis, providing thousands of people with much-needed support, close to home. Our work consists of extensive research to identify the social issues in our community that need attention to make a better life for all. We lead and facilitate conversations on these issues, and we have powerful partnerships with businesses, government, and donors. Through this process, we're able to invest community donations where they will have the most impact to build a stronger and healthier community for us all.
Your Local Dollars at Work
Our Partner Agencies
This United Way Peterborough investment stream is used to stabilize agencies that align to the community priorities and outcomes identified by United Way. Agencies receive funding for up to 5 years and are expected to meet the highest standards in organizational accountability. Close to 75% of our community fund is used to support long-term investment.
United Way Peterborough Supported Initiatives Fund
Moving People from Poverty to Possibility
Our focus includes meeting the basic needs of the most vulnerable people in our communities and building the capacity of individuals to engage in employment, education, and/or skills training opportunities.
Although interventions funded by UWP may not be sufficient to overcome poverty completely, they are designed to help people experiencing poverty develop plans and prepare for a better future — to move from poverty to possibility.
We reduce poverty by creating opportunities people need to build resiliency and shift from poverty to possibility.
We invest to help people meet their basic needs through:
Food Security
Housing Access & Stability
Financial Literacy & Income Growth
We invest to help people gain skills and realize their potential through:
Education and Life Skills for Youth
Supports for Families
Employment and Skills Training
United, we help more than 35,800 clients meet their basic needs including food, shelter & clothing through 16 long-term funded agencies and 4 innovation-funded programs.
The Issues:

47% of workers in Peterborough have literacy skills below the level required for their job.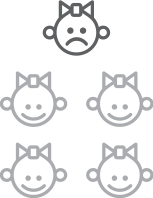 20% of children under 6 years of age live in poverty.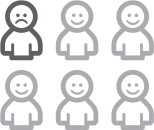 1 – 6 Peterborough households has an annual income under $20,000.

57% of workers have incomes that fall below the level necessary to afford basic everyday expenses and have a decent quality of life.

Peterborough youth (15-24) are unemployed at 2.5x the rate of our community.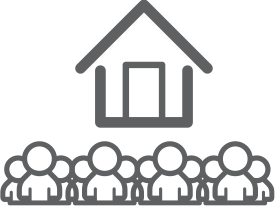 1700 applicants on the social housing waiting list, with little change from year to year.

5,800 Peterborough households regularly experience a shortage of nutritious, quality food.
---
Your United Way responds:
72,489 meals provided to ensure
that safe, affordable, and nutritious
food is available to alleviate the
effects of hunger
2278 people received debt
management and financial literacy
training to better manage personal
finances and build assets
11,682 parents were supported to
provide a nurturing environment
for their children through parent
education programs
6310 nights of shelter were
provided for people in need of a
safe place to stay
3000 children and youth were
provided with the training and
learning opportunities necessary to
improve their success at school
3350 received job training and
developed life skills to improve
their personal and vocational
success
2200 households at imminent risk
of homelessness were stabilized
avoiding eviction
---
Impact: